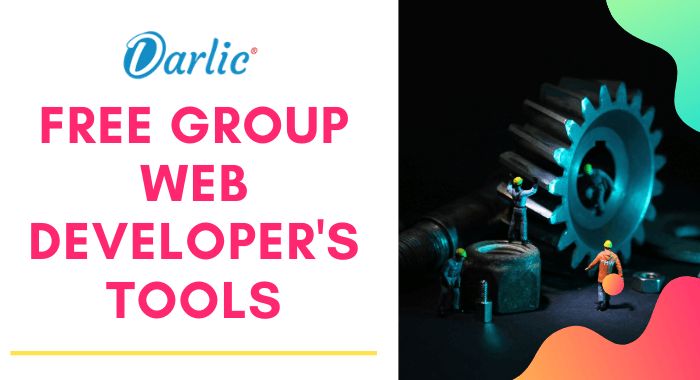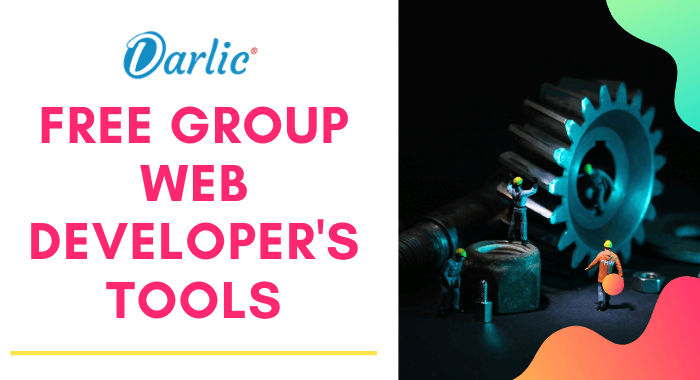 Darlic® Tools – Useful Group Web Developer Tools [Free]
What are the Darlic Tools & How to Use it?
Darlic Tools are specially developed tools for all the website developers, designers, freelancers and marketers of the industry to access and use for free.
In this article, I will share the complete information about Darlic Tools with you so that you can access and use these free tools to design a website.
Free Darlic Tools for Web Development and Designing:-
How to use these Darlic Tools?
There are multiple tools for developers and freelancers to use for website designing and development in Darlic Website Builder.
We will elaborate on the topic on how to use these tools…
Here is all you need to know about these developers tools:-
Darlic Tools is the all in one collection of tools that are used for website designing and website development.
In this article, we will help you know what is the purpose of each and every tool in the set of Darlic Tools and how to use these free web developers tools for website development.
Advertising Space – After your Hub is published advertisements may be placed in this space.
How to use Free Darlic Tools:-
Using the Darlic Web developer's tools is as easy as sending an email or texting a message on Whatsapp.
Go to this URL to use the Darlic Tools:- tools.darlic.com
After opening this URL you will see tools there like below in the image to use.
You can search and use the tool that you're searching for and that can help you in minimizing your efforts, for saving both time and money on searching such stuff.
Color Tools:-
Every developer faces issues while choosing the color for designing the webpage and choosing the website color scheme. With the Darlic colors tool, it becomes easy to decide which color to use for web development.
In this tool you will see a pallet to select a color, as you click a color it will get highlighted and the values of the color will be displayed to you on the right side of your screen, you can see in the image below.
The other tab with the color name will show you the names of colors and texture you can select any above those and copy to use for website designing.
Color tool for #code of color and other required information 
Password Generator:-
With the password generator tool in Darlic, you will see the different combinations of password keys. You can enter the value of Password Length, Number of Passwords, etc.
After filling the values click on generate password and you will get the new passwords specially generated for you.
Click on any combination of password key and it will be copied to your clipboard, you just can go anywhere and paste the password to use and store for future use.
Icon Generator:-
Finding the icons to use in a website is one of the most time consuming and irritating jobs, the expert team of Darlic has done a great job to minimize this effort of researching icons and special symbols to use in a website every time.
For this, they have developed a Darlic Icon Generator where developers can copy and use the icons of their use for free. To use these icons just search for the icon, select the color scheme and click on the icon to download with the same color scheme you chose. As shown in the image below.
search the icon, select the color scheme and download.
Code Formatter:-
Code formatter is an HTML and CSS Code Formatter. You can easily format your HTML and style sheets using this tool.
To use this tool click on Darlic HTML/CSS Code Formatter then simply paste your code that you want to get formatted and hit the format code button. Here it is as you hit the button your code will be formatted.
Like the image of the tool below…
Word Counter(Text):-
You'll be known to this tool if you're a content writer or a person deal who deals in designing and content optimization. This tool is a text word counter that counts the content in Number of Characters, Space Count, Words, Lines, etc.
Click on word counter to use this tool and paste your content to count the values.
Image Editor:-
The image editor is an easy to use online image editing tool by Darlic Website Builder. Using this tool one can easily resize, crop, rotate and optimize the image with a single click.
Click on Image Editor to use this tool, then upload the image, select the option either to resize, crop, rotate and select the output type (gif, jpg, png, jpeg) and optimize it according to best/normal/ progressive compression quality and hit the button to apply the action.
SVG Editor:-
SVG editor is a tool to generate a logo for web and mobile apps using the online photo editing tool and logo maker. Click on design a logo for free to access SVG editor and start making a graphic or a logo for free.
Facebook cover image:-
The Facebook cover image is a simple to use cover image creator for Facebook and other social media. To make a cover image with this tool is as simple as typing a wanted text only, yes! just type your slogan or name and your image is ready..
To use this tool you just need to open the Facebook cover image generator, and then change the text already present there in the text box, change it with your text and here it is your cover image is ready. Change the font, type, etc options and download the image to upload and use on your social media channels.
Typography Style Selector:-
Typography Style Selector is another useful and free tools to design a website style by Darlic, with this tool one can manage to select the color scheme of text and content style on the website by simply selecting the color scheme, background, font type, etc. Go to
Typography Style Selector, then select the background color, font, and other options after selecting you can see the style with the dummy content on the right side of the tool.
Font Selector:-
Font selector is another helpful tool for web developers to help in selecting a font for designing a website. Using this tool you can select the fonts from the collections of fonts mostly used in website development.
To access this tool click on web developers Font Selection Tool choose the font you like and copy the style sheet available at the right side and use it as your style sheet.
Encrypt Strings:-
String Encrypt can help you hide the things that shouldn't be visible at first glance to anyone with a hex-editor. In the Darlic Encryption Tool, you can encrypt the string in a single click. You just need to go to encrypt string tool, paste your string and click on submit a query to change encrypt the text to a query.
Special Character:-
The Darlic – Special Character is another free useful tool, it has the collection of special characters used for development in one place, you just need to go to Special Characters Tool then search for the character and copy it by clicking on it.
Domain Name System:-
It is a tool to test the domain name server. To use it you need to go to Domain Name System, enter your domain and hit the submit to see the output.
Pagespeed:-
Google PageSpeed tool is integrated into Darlic tools where you can check your webpage speed in less than a minute with accurate results.
In the Darlic Pagespeed check tool, all the suggestions and issues are listed in the tool itself. You can copy the error and look for the solution by searching on Google.
This is all about the Darlic® Tools I know about
Give it a try by using it for designing a website or make a complete website using their website builder. You'll get impressed for sure..
Conclusion:-
By my experience of developing a website with this website and mobile application developers, I'm quite confident it's going to be the future of the IT and web development industry in the coming years.
I have used all these tools myself and have developed websites and mobile applications with Darlic® – Platform. The great thing about this builder is the website developed with it are progressive web applications, you can create a PWA in a single click.
This is my knowledge, now it's your time to say what do you think about it?