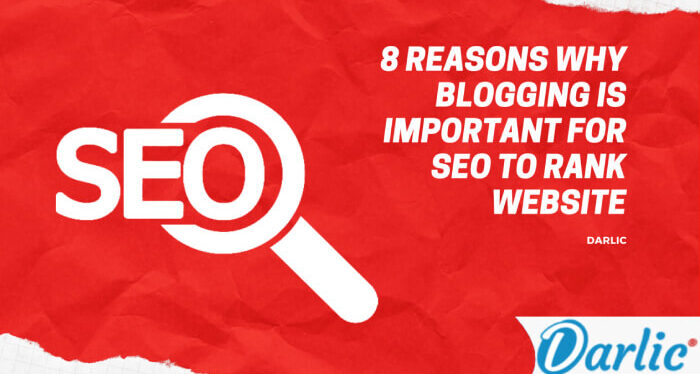 8 Reasons Why Blogging is Important for SEO to Rank Website
There are more than 200 factors that affect SEO ranking, and blogging is one of those. Here are the top 8 reasons why blogging is important for SEO to rank websites.
Blogging has become one of the most important content marketing methods for a brand to increase the CTR (click-through rate) and conversation rate.
Each month, 20 million pages are scanned by nearly 409 million people and out of which 61% of readers make a purchase on the basis of the suggestion from a blog.
In this article, I will list the eight most important reasons why blogging is important for SEO to rank websites.
So here we go..
8 Reasons Why Blogging is Important for SEO to Rank Website:
Does Blogging Really Help SEO?
The simple answer is "Yes blogging helps SEO". But having a blog is not a ranking factor in itself.
Blogging is good for SEO because it helps in many things that are important ranking factors. When you have a blog that is regularly updated with blog posts that are of high quality and on topics relevant to your web pages, services, products, and audience, it can make a big difference in how your entire website ranks in search engines. Performs.
These are the eight main reasons for this.
Google Needs Unique, Niche Relevant and Fresh Content
81% of internet users agree that blog posts are trusted sources of information or advice. Blogging helps build a brand for a specific and new niche website. If you have a website that you want to rank, then writing articles, blogs, or tutorials can help you rank on Google and other search engines. If you are unsure about how to write a great blog that people read, then continue reading.
How to Write an Awesome Blog:
To write an awesome blog that people love to read, brainstorm a niche friendly topic to write an article for your website, and then search a bunch of keywords to rank, write the article that provides people knowledge and quality content. And never forget to add headings after a paragraph or two; The headlines with 6-8 words can increase your CTR by 21% and also it makes the article interesting, less confusing, for people to read your content and not leave the website in mere seconds.
How to Promote your Remarkable Blog:
It's great that you have written a wonderful article for your visitors to read, but your work does not end here, it's time to promote your article. Now share your article on social media sites, like Facebook, Twitter, LinkedIn, Reddit, Bookmarking, content curation, and other Blog Sharing sites, like medium, HubPages, etc. to gain visitors and increase traffic on your website, in order to bring ranking advantage to your website.
Increase in Number of Website Pages with Quality Content
Better content can increase blog traffic by up to 2,000%. Every time you add a blog, a new page is created that contributes to improving the website ranking.
Marketers say the businesses that post blog experience twice as much email traffic as businesses who don't. This means, to increase traffic on your website, update content and blogs on the website regularly, and create internal linking of pages, articles, and some of the high authority blogging sites. It will help to increase website authority and ranking.
Target More Keywords to Rank for your Blog and Service Pages
Keyword Research is the first and the most important part of SEO to increase the website traffic and improve the website ranking on your wanted keyword. But merely stuffing the keywords in content and meta tags, can't rank your website for a competitive keyword, that's why you need blogging for SEO to improve website ranking on Bing, Google, and other search engines.
To target more keywords, research keywords, use multiple keyword research tools, like Adword Keyword planner, SEM scoop, Moz Keyword Planner, SEM rush keyword research, etc. Then, use these keywords in your articles and services pages content. When you write articles and target specific keywords, then include your services keywords in it and internally link it, with the anchor text of the service page.
Blogging helps you target long-tail keywords.
A lot of people start doing SEO because they want to target the most relevant keywords for your business. For example, if you sell camping gear, you may want to use the word "camping gear" on page one.
While this is a good goal, unless you are the largest camping gear brand in the country, you may find it difficult to get to the top for that search. SEO is really competitive. The best bet for most brands is long term search, the more specific keywords people are looking for are the right ones for the business and try to rank for them.
These are called long-tail keywords and they are very important for any SEO strategy – half of all searches are for terms that are four words or more. But they can be awkward trying to fit into your product pages. However, they are the perfect way to target a blog post. Use the blog posts of a store that sells camping gear, "The Best Camping Gear for Cold Weather" or "What do you need when you go car camping?"
These searches don't attract as much traffic as "camping gear" does, but they do come clearly to the target audience of your camps and, if you can make it to the front page, you need more than just these topics. Will get traffic. You will find pages five or ten for the most popular terms.
Blogging Helps to Attract both External and Internal Links
According to 65% of marketers, link building is the most difficult SEO tactic to perform, but you need tons of high-quality backlinks from your niche related sites to rank on Google. This blogging can help you make backlinks; according to marketers, the number of inbound links for a website can increase by up to 97% if a company has a blog. If you write a quality article that provides value to readers, you will get a bunch of links from multiple sites interested in your content. And a single quality content from a high authority site can improve your website ranking, so create articles worth sharing and reading.
Increase Dwell Time and Decrease Bounce Rate
Dwell time: It is the time which a user spends viewing your pages after clicking your link on SERP, it is the duration between when a user clicks on a search engine result and then returns from the website to search engine.
Bounce Rate: This is the percentage of visitors who enter the site and then leaves rather than continue to view other pages within the same site.
If you write valuable articles that people are interested in reading, it will increase dwell time, which will decrease the bounce rate of your website. The increase in Dwell helps a lot in improving the website ranking.
A blog keeps people on your website for a long time.
Google's number one priority is providing people with the information they're looking for, so they'll come back to use Google again. If a searcher clicks on the first link, they find it unhelpful and immediately return to the search page – which tells Google that the first result was not as helpful as they thought. On the other hand, when someone clicks on a result and stays on the website for a while, it signals to Google that the website is actually very helpful.
Although Google has not stated that time spent, or the amount of time that people spend on your website, is definitely a ranking factor, they have made other statements that make it clear that they The thing they focus on and provide. Value.
Anyone who visits your website from a blog post that appears in the search results has more reason to hang on and read the whole thing than the person who landed on a text or information page.
And this becomes, even more, the case with longer and more extensive posts. SEO researchers have found that long farm blog posts tend to perform better than shorter ones – the first page on Google results in about 2,000 words long.
Helps in Ranking Website Services and Products Keyword
According to digital marketing statistics of B2B, 88% of marketers claim that content is an evident part of marketing a business. As discussed in the previous section about the pillar cluster technique, it helps improve the ranking of your blog pages (as a topic). If you use quality links to your services or product pages, it will also help you rank your services and product keywords.
So start writing the quality content that your reader would love to read with complete SEO strategy to rank on search engines and if your blog lists your keyword ranking will also improve.
Enables you to use the Pillar Cluster technique for blogging
Pillar cluster is the technique introduced by HubPages to link the pages with each other internally, i.e., linking the Pillar (main hub topic) pages to Cluster (detailed topic) pages.
Using this technique makes the website stand according to EAT algorithms and increases website authority, leading to improved website ranking. Even the big brands use this technique to rank their highly competitive keywords, so if you use a pillar cluster content strategy on your website, the right way will help you in ranking your keywords for sure.
Make Your Website Stand on Google's EAT Parameters
EAT stands for expertise, authoritativeness, and trustworthiness, and Google wants this type of content to rank your website or article on their search giant. That's why your content needs to be written by an expert, that people can trust and it can be authorized. A content that provides value to the readers creates an increased chance of linking to your article. This eventually improves the ranking of the services page also. Thus leading to improved website traffic and lead generation possibilities. The rest lies in you the strategy you have to convert your leads.
Bonus Tip #1:- A quality blog gives more reasons for other sites to link to your site.
They value internal links, but the biggest part of SEO is earning external links. In order for Google to view your website as trustworthy and authentic, other sites (and reputable ones) need to link back to yours. It's not impossible to get external links without a blog, but it's too hard.
When you write an article or a blog, you update your website with valuable information that your users are looking for. Whenever another website decides that it is important for their readers to point them to useful information from a different site, it is highly likely that your website will provide information that you are able to link to if you have a good one. Blog is a set of posts.
Research shows this. Hubspot found that companies that have blogs on their websites earn up to 97% of inbound links. It just makes sense that more websites will link to the really helpful post you wrote about how to find the best Mother's Day gift for a rich mom than your homepage.
Bonus Tip #2:- A blog helps you attract more people and connect with your audience.
These are not direct linking factors such as links, but they are important contributors to linking factors. When your visitors read a post they like, they can share it, drive more traffic to it, come back to your website to see more of your content, and maybe sign up for your email list. Please. When you get a lot of traffic and get visitors again, it shows Google that people like your website and increase your authority level in their algorithms.
And while this is great from an SEO standpoint, it is ultimately more important to the success of your website than the fact that you are in the rankings. The people in your target audience are visiting your website, engaging with it, and being a regular follower is more important than any #1 position in Google (which is why you want to get a spot on Google).
A blog is a great way to build those connections and keep in touch with the people you want to reach.
Conclusion – Why Blogging is Important for SEO:
These all were the 8 important reasons why blogging is important for SEO to rank your website. Apply the strategies mentioned in the article and improve your website according to the rank brain, google algorithms, to improve your articles and services pages to rank your website.
Who We Are: We are the group of experts who want to make web development easy for you, with Darlic® the free website builder and free web application builder, to help you become self-reliant and provide jobs to the people seeking great opportunities in the digital world. Darlic® is the cutting edge technology that keeps on updating as per the demand of the digital world.
Using this platform a nontechnical person can create free websites, website applications, and free mobile applications with less or no knowledge of coding. This system is reliable for people who are at the beginning level or having extensive years of experience or anyone who wants to create a website for free.
This system is a seamless way to bring down the workload and beat the deadlines a week before. Also, one can create a website for free and make money in no time. Our round the clock support team is available to provide guidance on the toll-free number for the trouble-free work progress.