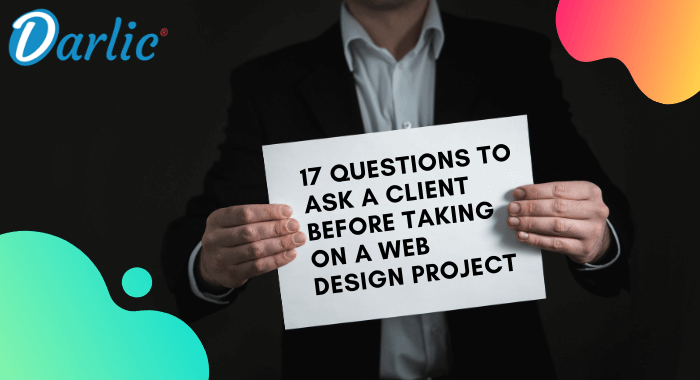 17 Questions to Ask a Client Before Taking on a Web Design Project
Good web design is not something you do on your own, then finally open up to a wide-eyed customer as a complete piece. As a professional, you know that building a website is about providing a service to a customer, and therefore a more transparent, back, and forth experience.
For this reason, you and your client need to establish a channel of instant communication from the bat. Forming a crystal clear understanding of what your client needs will not only help make your design spot-on, it can also help you get a better idea of what to expect from working with them.
As a service provider, it's up to you to take the initiative and ask the right questions at the right time (at the right time, as soon as possible). Here are 12 questions to help you make sure you don't miss anything important:
"If you want to wow your client with a website that looks gorgeous and meets their and their customers' requirements, you need to ask a few well-designed questions before you dive into the fun stuff. "
Website Design Questions to Ask Clients Before Working on a Web Design Project
---
Understand the project
What is your budget? (How much do you want to invest)
This important question must be addressed directly. Do not beat around the bush on it, and do not postpone it to later stages in the process. If the budget is low, you can find it now after several additional meetings with the client.
What is the timeline? (How long it takes you to get your website up and running)
It is important for you to understand whom you are signing up for. Some clients have not yet considered their schedule, and in those cases, you can offer a recommended course of action based on your experience, and see if it works for them.
What challenges are you facing?
As a design firm, we are often approached by clients who have a common goal in mind. The common phrase we hear is "I need a website" or "I need a new logo".. However, the first thing we always ask our customers is, "What problems are you facing?" And afterward, we will know whether they actually need a website or logo as per their prerequisites.
Introduce yourself to your client's business
What does your business do? (Describe your business in a few sentences.)
It may seem obvious to bring up a question. As you listen to this, you can take into account their views on their business and help you see what is important to them. There are businesses that you know very little about (such as the career of a freelance taxpayer), so it's always helpful to be familiar with your client's practice. But even when the profession seems very self-explanatory, like a dog walking, the value you can choose to emphasize depends on how they describe their business.
For example, to say, 'I never walk more than five dogs at a time,' means that closeness and familiarity are key values in this business, while someone says, 'We walk and play together. Let's play 'Emphasis on quality time with pets'. Try to look at the business from the perspective of those who run it, so that your design reflects their values and personality.
What makes your company different?
As a follow-up question, this one can help you learn what sets your client apart from their competition. This time, open the question so that you are asking not only about your product or service but also about the whole package, including whatever value they include. Going back to the dog walking example, some professionals can tell you that their added value is the cute pictures of dogs they send to owners every day.
Knowing this type of information can cause you to add a picture gallery to a website that doesn't necessarily call for anyone. It's a small decision, but it's one that can make a website more unique and true to that particular business style. Find out if the company has been around for a while or is just starting out, and what its size is. Ask about weaknesses – not just their strengths – so you can get a better understanding of who they really are.
Who are your competitors?
This question should be followed with some research by you. Once your client names their main competitors, make sure to look at their online presentations. See more to learn about their web design, social media engagement, and the market in which your client is and some common practices for their area.
Who are your ideal customers?
While it's the client who hires you, the people you really want to build are your client's clients. Those people will eventually be browsing your website, and for your work to be truly successful, you need to understand them and their needs. Ask your client about their client's target audience, both demographics – age, gender, etc., and in terms of motivation – what do they like most about the product or service; what do they expect to find; what frustrates them, and so on.
What makes you stand different from your competitors?
Knowing your client's unique selling point will help you build a site that stands out from their competitors. 'In a busy, noisy, competitive world online business, businesses really need to be successful. So how do you get people to pay attention when you visit a site? How can you make the first impression count of that trick?
It shouldn't be anything big; It can be as simple as a free consultation or excellent customer service. Other things that set businesses apart include expediting or free delivery of products, stockpiling the cheapest or best quality products in their field, an excellent guarantee or return mechanism, or offering a unique package. . By knowing how your client differs from your competitor, you can provide a site that does so.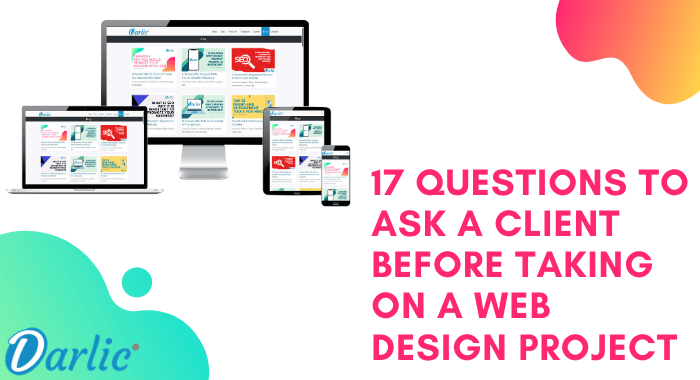 Learn about your customer's vision
What is the main goal behind creating a website?
Most clients know they need some kind of web presence, but don't really stop and think about what they want their website to accomplish. In order for your web design to truly meet the needs of your clients, you need to help them clearly articulate their goals. Ask them if their main goal is to raise brand awareness, make site visitors aware of their various features and services, promote online sales, or anything else. The more specific their goals, the more you will be able to accomplish them in your design.
What features should your website include?
Now that the purpose is clear, it's easy to address the question of what kind of activities you want your site visitors to engage in. Ask your clients if they would like their site visitors to book various services online, read a blog, sign up for a newsletter or chat with a live representative. The types of features to include in a website should be defined at an early stage of the project, and not beyond the line after trying hard to accomplish some other, less important element.
Here are some ideas to choose from to determine what is important for your website:
About us, with team members
Sign up now
Social integration
Site Search
Third-party app integration (CRM, marketing automation software, etc.)
Multilingual
Accept payment
Blog (This is a must have, for any modern business website should have a blog)
Contact form
What are your favorite websites and why?
Ask your client to send three to four favorite links, with a brief description of how each of them is appealing. Similarly, direct the customer to some examples of your portfolio and note what qualities you are thinking of building for them. Be clear that you are not copying an existing website, but use these examples as a bit of inspiration and reference for both of you.
What are the most Important call-to-actions (CTAs) on your site?
It goes with the user's journey through your site, but we're diving deeper than just submitting a form for more information.
Here, you set the specific terminology of your CTA that will motivate your users to take action and point to the success of your brand.
This is usually a collaborative effort, and it is usually useful to do some A / B testing after launch to see which one changes for the better – to get started you can check out some examples of great CTAs. Be.
How can we avoid failure?
It's just as important to know your client's dislikes. Removing something integrated into a website after a project is halfway through is just as annoying, expensive, and time-consuming as adding something.
Ask them to show you their least favorite websites and show them the design elements, features and styles that make them shine. This way, you can rule out potential failures before the project is criticized. Can.
Understand the company's current design
Do you have an existing website, and what do you like and dislike about it?
Visit the entire site with your customers to understand what they are asking questions on each page. Is this a design? Lack of features? Bandwidth? For this step, bring a notebook and a pen and take notes.
If your client is using Google Analytics, request a look at the data and see what can be learned from it: What pages do site visitors often hang on to, and what makes them close the tab? Ask your client if they own the domain, and explain that it can be easily transferred to their new website with Darlic®.
Do you have a logo or you need to create one?
Ask you customer if they have a Logo in high resolutions, if they have then see the logo and share any suggestions for changes if you think are required in their existing logo, or ask them to redesign it with some great idea, design and concept.
Are you active on social media?
Social media is a form of your web presence, and seeing what works and doesn't work in your customer's communication with customers on social platforms can be translated into the design of their new website. Find out if they want their website to link to any of their active social media channels.
Do you have a website design, style guide, or an existing image that you like?
Your client may have a clearly defined visual language that transcends their stationery and PowerPoint presentations, and yet does not share it with you because it is not related to web design (or so they think). Ask for anything that will help them understand their current aesthetics and appearance and experience. Find out if they like this visual language, or if they like to change it anyway. Make sure you request the use of photos or other images that may be a good fit for their new website.