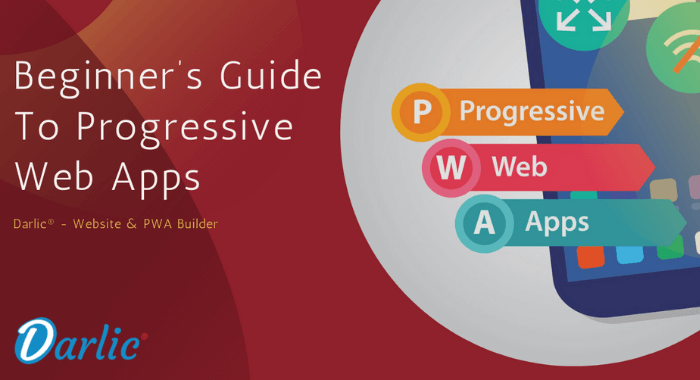 A Beginner's Guide To Progressive Web Apps, How to Develop PWA?
PWA takes the advantage of the latest technologies to combine the best web and mobile apps, PWA is built and enhanced with modern APIs to deliver advanced capabilities, reliability and installment, while accessing any device, anywhere, with any codebase.
This article looks at recent advances in browsers and opportunities for developers to build new generation web apps.
The progressive web app could be the next big thing for the mobile web. It was originally proposed by Google in 2015, they have already garnered a lot of attention due to the relative ease of development and almost instant wins for user experience.
A progressive web application leverages the latest technologies to make the best use of web and mobile apps. Think of it as a website built using web technologies, but it acts and feels like an app. Recent advances in the browser and availability of service workers and in the cache and push APIs have enabled web developers to allow users to install web apps on their home screens, receive push notifications, and even Work offline
Progressive web apps take advantage of a wide range of applications, plugins, and community nitty-gritty and make it easier to deploy and manage a website than any local application in the respective app store. For those of you who develop on both mobile and web, you will appreciate that a website can be built in a short period of time, that the API does not need to be maintained with backward-compatibility (all users have the same version of your website The code will run, unlike version fragmentation of native apps) generally deploying and managing applications will be easier.
Why Progressive Web Applications?
It is possible to find something and share what you have found anywhere. Whenever you visit a website, it is up-to-date, and your experience with that site can be as short-term or permanent as you want. Web applications can reach anyone, any device, any place with any code base, platform-specific applications are known to be incredibly rich and reliable. They are ever present, on the home screen, docs and taskbar.
They work regardless of the network connection. They launch into their own standalone experience. They can read and write files from the local file system, use hardware connected via USB, serial, or Bluetooth, and even access data stored on their devices, such as contacts and Calendar events.
In these applications, you can do tasks such as taking pictures, play songs listed on the home screen, or control song playback while in another app. Platform-specific applications feel like part of the device on which they run.
Capabilities versus accessibility of platform-specific applications, web applications, and progressive web apps. If you think of platform-specific apps and web apps in terms of capabilities and accessibility, then platform-specific apps represent the best capabilities while web apps represent the best accessibility.
Why Progressive Web Applications are Important:
One study showed that on average, an app loses 20% for each step between its user's app to the app's first contact and the user starting to use the app. A user must first find the app in the App Store, download it, install it and then, finally open it. When a user finds your progressive web app, they will immediately start using it, eliminating unnecessary downloading and installation steps. And when the user returns to the app, they will be prompted to install the app and upgrade to a full-screen experience.
However, a native app is certainly not all bad. Mobile applications with push notifications achieve three times more retention than their counterparts without a push, and a user is three times more likely to reopen a mobile application than a website. In addition, a well-designed mobile application consumes less data and is much faster because some resources reside on the device.
A progressive web application takes advantage of the features of a mobile application, resulting in improved user perception and performance without the complexities involved in maintaining a mobile application.
Use Cases
When should you create a progressive web app? It is basically recommended for applications that you expect users to return to frequently, and a progressive web app is no different. Flipkart uses a progressive web app for its popular e-commerce platform, Flipkart Lite, a progressive web app for its online check-in process, allowing users to use their tickets without an internet connection.
When evaluating whether your next application should be a progressive web app, a website, or a native mobile application, first identify your users and most importantly the applications. Being "progressive", a progressive web app works in all browsers, and the experience is enhanced when the user's browser is updated with new and improved features and APIs.
As such, there is no compromise in the user experience with a progressive web app compared to a traditional website; However, you have to decide what functionality to support offline flying, and you have to facilitate navigation (remember that in standalone mode, the user does not have access to the back button). If your website already has an application-like interface, then applying the concepts of the progressive web application will only make it better.
If certain user actions require certain features but are not yet available due to the lack of cross-browser support, then a native mobile application may be a better option, guaranteeing the same experience for all users.
Characteristics of a progressive web app
It is important to understand that the progressive web application has the following Characteristics:
Progressive. By definition, a progressive web app must work on any device and grow incrementally, taking advantage of any features available on the user's device and browser.
Discoverable. Because a progressive web app is a website, it must be searched in search engines. This is a major advantage over native applications, which still lags behind websites in search-ability.
Linkable. As another feature inherited from websites, a well-designed website should use a URI to indicate the current state of the application. When the user shares the bookmark or app's URL it will enable the web app to maintain or reload its position.
Responsive. The UI of a progressive web app should be according to the form factor and screen size of the device.
App-like. A progressive web app should look like a native app and be built on the application shell model with a minimal page refresh.
Connectivity-independent. It should work in areas of low connectivity or offline (our favorite feature).
Re-engageable. Mobile app users are more likely to reuse their apps, and progressive web apps aim to achieve similar goals through features such as push notifications.
Installable. A progressive web app can be installed on the device's home screen, making it easily available.
Fresh. When new content is published and the user is connected to the Internet, that content should be made available in the app.
Safe. Because a progressive web app has more intimate user experience and because all network requests can be intercepted through service personnel, it is imperative that the app be hosted over HTTPS to avoid human attacks.
Conclusion
At their heart, progressive web apps are just web applications. Newer capabilities are enabled in modern browsers, using progressive enhancements. Using service workers and a web app appear, your web application becomes reliable and installable. If new capabilities are not available, users still get the original experience.
Don't lie Companies that have launched progressive web apps have seen impressive results. For example, Twitter saw a 65% increase in pages per session, 75% more tweets and a 20% decrease in bounce rate, all while reducing its app size by 97%. After switching to PWA, they saw 2.3 times more organic traffic, 58% more subscriptions and 49% more daily active users. Hulu replaced its platform-specific desktop experience with a progressive web app and saw a 27% increase in return visits.
Progressive web apps provide you with a unique opportunity to provide a web experience that your user loves. Progressive web apps allow you to install any device with any code base on any device, anywhere, using the latest web features to bring enhanced capabilities and reliability.