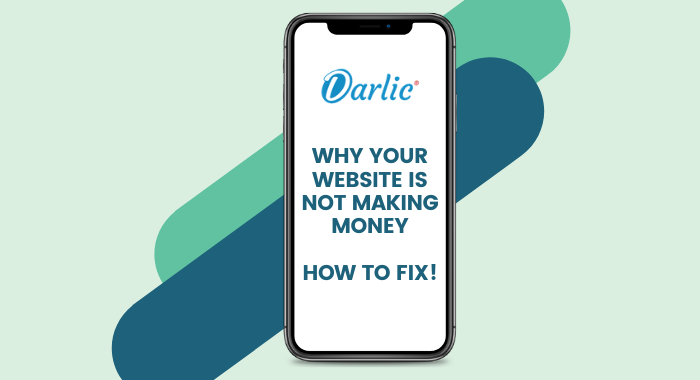 Why Your Website is Not Making Money? (How To Fix It)
Making money from your website is not a myth. Anyone can make money with their website and social media platforms.
In fact, you can turn your part-time, hobby blog, or website into a money generating asset or business development platform with the right strategy and some hard work.
At a minimum, you should be able to make enough money to cover your expenses for a domain, hosting, and billing. You may be able to change your income (and then earn some more).
What Will You Learn Today
Today in this article we will cover the reasons or issues that your website is trying to perform better, but the technology used for its development is lacking due to some reasons or problems.
Keep in mind that the following strategies range from simple and active to those that require a TON of work on the site (so make sure you choose something that suits your site and lifestyle preferences).
So let's get started without waiting too long.
Why Your Website is Not Making Money?
Today, users have access to more than 1.5 billion websites, meaning you have fierce competition in the online marketplace, even if you work in a specific industry. However, competition for fewer site sales is not the only reason. Many factors can affect your revenue and traffic.
Your website does not receive any sales or conversions because it does not match your customer's needs, requirements, and expectations. There may be technical issues with your website. It may be that what you are offering is not compelling enough.
That's why it's common for companies to ask this question: Why My Website is Not Making Money?
This post answers the question and explains where your website is lacking, and how your business can solve these problems, from a slow site to an SEO strategy. 
Get started now to resolve your site issues or join our team online to see how we can help! You can also check out the list of optimization tools on our website!
Reasons Why Your Website is Not Making Money:
Your website is not responsive
Did you know that more than 60 percent of the world's Internet traffic comes from mobile devices? People rely more on their smartphones and tablets to access the Internet than on their laptops or desktops.
How to fix an unresponsive website
Responsive site design or website redesign is a solution for responsive website.
The charges for it may vary depending on the size of your site, content management system, and any other site features. If you want to make money with your website, this is an important investment and one that gives a significant return on investment (ROI).
Your website is not fast enough
Users today expect sites to load in two seconds or less. This is why increasing the speed of your website by one second can increase your conversions by seven percent, which means more revenue for your company. Check the speed of your site, and see if it costs money on your business.
How to Make Your Website Speed
Depending on your website, this is a quick fix to improve your site's speed. For example, if you have multiple videos on one page, deleting some may speed up your page. Compressing images on your website can also increase your site's load time.
Additional improvements, such as the following, would require the expertise of a developer:
Reduce the number of redirects to your website
Customize your site's HTML code
Reduce your CSS and JavaScript
Review your hosting options
You can also invest in page speed optimization services, which take care of the whole process, or learn how to optimize website speed in this article.
Your website is not optimized for SEO
With 75 percent of businesses investing in SEO, you can bet why. SEO helps your website become a lead and money generating machine by improving your visibility in important search results.
If your company does not use SEO, this can be one of the possible reasons why your website is not making money.
No On-Page Optimization
On-Page website optimization is one of the most popular topics in the team of website and SEO optimization, if your website is not built as per the Search engines parameters then it won't be able to rank on it. That's why if you want on Google then you must optimize your website.
SEO Errors
If you analyze a website with any tool like site checkup, WooRank, SemRush, or Ahrefs audit, then it will show you some errors in your website with SEO score. You should fix these errors at the first before working on other factors of SEO.
Canonicalization Missing
Canonical Tag is the code that tells Google which is the original page and which page is a duplicate of this page. This helps in avoiding the issue of duplication of website content.
Meta Tags Missing
Meta Tags are an important element in keyword optimization. It helps Google know what your web page is about. If you want to rank for a keyword then you have to update your meta tags in the head section of your website.
Keyword in Title Tag: Although not as important as it once was, your title tag remains an important on-page SEO signal.
Title Tag Starts with Keyword: According to Moz, title tags that start with a keyword tend to perform better than title tags with the keyword towards the end of the tag.
Keyword in Description Tag: Google doesn't use the meta description tag as a direct ranking signal. However, your description tag can impact click-through-rate, which is a key ranking factor.
Sitemap Missing:
A sitemap is the XML page that includes the URLs of your website. It helps in getting your website pages crawled in search engines.
Robots.txt missing
The robots.txt file tells the robots or Google that which page it is allowed to crawl or which page it has not to include in the SERP.
Headings
Heading Structures are HTML <h> tags that are defined as a title or a subtitle that you want to display on the webpage. The <h1> to <h6> tags are used to define HTML headings. <h1> defines the most important heading. <h6> defines the least important.
Keyword Appears in H1 Tag: H1 tags are a "second title tag". Along with your title tag, Google uses your H1 tag as a secondary relevancy signal, according to results from one correlation study.
Keyword in H2, H3 Tags: Having your keyword appear as a subheading in H2 or H3 format may be another weak relevancy signal.
Internal Link
The links that are linked from one page to another within the website are the internal links. For eg., the links in your navigation, footer, links anchored in the content of your web pages.
Quality of Internal Links Pointing to Page:
Internal links from authoritative pages on the domain have a stronger effect than pages with no or low PageRank.
Outbound Link Quality:
Many SEOs think that linking out to authority sites helps send trust signals to Google. And this is backed up by a recent industry study.
Broken Link Optimize
The links that result in 404 pages are called broken links. The broken links are bad for the website; it can result in a bad experience for a user.
Write and Update Content
This is the primary requirement for a website. If you want visitors to like your website or you want to rank on Google then you need high-quality content on your website. Without it, you can never dream about ranking on search engines and your users to share with others.
Keyword Research
Keyword research is the first step in search engine optimization. After you have selected keywords for your website, then you move to the next step. In keyword research, you are suggested to search for keywords with high volume and low competition so that you can rank in less time, and gain many profits.
Optimize keywords and content
It was the time when ranking on Google was so easy by stuffing your keyword in content. But now it is not that easy, now there are so many parameters that Google uses to rank your website. But if you have keywords within the density of 1% – 2%, then it will be good then content with no keyword on a web page.
Page Covers Topic In-Depth:
There's a known correlation between depth of topic coverage and Google rankings. Therefore, pages that cover every angle likely have an edge vs. pages that only cover a topic partially.
Duplicate Content
Identical content on the same site (even slightly modified) can negatively influence a site's search engine visibility.
Grammar and Spelling:
Proper grammar and spelling is a quality signal, although Cutts gave mixed messages a few years back on whether or not this was important.
No Off-Page Optimization
The links coming from other websites to our website are the backlinks for our website. This strategy of making connections with other websites through links comes under the Off-Page Optimization Strategy.
You don't know your audience.
It's not enough to choose a random or targeted audience at "all"; You need to get to know your audience and create content and messages that they particularly like. Do thorough market research and check your perceptions – make sure you are really offering value to your target audience.
Your content is useless.
A content strategy is useless without high-quality content. In fact, it is useless to publish content that will harm your brand and reduce your conversion rate. Only publish content that you're proud of, that matters to your audience. Here are 12 essential elements of high-quality content to help you create actionable content.
Your site doesn't look good.
Something can be said about the beauty of your site. Ask yourself these questions about your website, and you'll know the answer. If it actually looks good then you can go ahead, but if not then you need to redesign it.
Does it look good on mobile devices?
Does it complement the education of your industry and your brand?
Is the text easy to read?
Are there compelling images and colors?
Bad Website Structure
Website structure plays an important role in website design understanding and SEO optimization. If you don't divide your pages, or products category wise it can be the reason for low site traffic and less website exposure.
No Website Flow
If visitors are not able to understand your website flow, what option they have to select first, and what will be the next move, then they won't be able to make a purchase on your website, which will not be good for your customers and your business.
No Call To Action
If your website is good, you have good content, graphics used well, and everything is good. But if you're not taking the benefits of Call To Actions then you're losing your business and leads you can generate from your website. 
Website Usability and user experience
Google, the search engine has especially launched an algorithm called Rank Brain that ranks websites only on the basis of website usability and user experience. It analyzes the user interaction with a web page, as per the signals a search parameter it decides on which position a website should rank.
RankBrain
RankBrain is Google's AI algorithm. Many believe that its main purpose is to measure how users interact with the search results (and rank the results accordingly).
Website Errors
Website Development is not only about the front end, and how your website appears, having errors in the website can also be the reason for no search engine traffic and website ranking. A website development company that has good experience in this field fixes these errors in your website. You also can check your website errors on the W3C Validator website.
No Articles Published on the Site
Blogs, Articles, or case studies published on a website can help it to rank higher on google and other search engines. If you don't have a blog section on your website, then you should make one and publish articles related to your website niche, and keywords that you want to rank.
Update website regularly
Google ranks the website that updates its content on a regular basis, with articles, pages, case studies, images, or any other kind of content. So it has become necessary to update the update to offer the experience of a fresh website.
Add relevant images or graphic
Website appearance is another signal that makes your website content impressive and engaging, it also helps Google to decide if it will rank you or not, and Google will prefer to rank you if you have quality content and graphics used in your website.
Integrate Webmaster
Webmaster or Search Console is the tool of Google that helps you know the errors in your website if your page is responsive or not, why your web page is not getting crawled, and many other things. You can also request to crawl a page using the URL Inspection Tool.
Integrate Analytics
Analytics is the tool that lets you know about the traffic on your website, it tells you how many users visited your website, which platform they came from, which are your best-performing pages, and bounce rates, etc. It also helps you set a goal on the button to analyze the conversion rate.
Image Optimization:
Images in content send good signals to search engines through their file names, alt text, titles, descriptions and captions about a webpage and it can help you rank on SERP.
Alt tags: The alt tag can be used as the title of the image, and it helps to create a link between a webpage and the image. It also helps in ranking a website.
Size optimization: Optimizing the website is also a factor that can indirectly affect your website ranking. Images play a big role in website and page loading time which makes it necessary to optimize a website.
Domain Authority
All things being equal, a page on an authorized domain will rank higher than a page on a less authoritative domain.
Keyword in URL
Another optimization signal. A Google representative recently called it a "very small ranking factor." But still the ranking factor.
URL Length
Too long URLs can hurt the search engine visibility of the page. In fact, many industry studies have found that Google's search results have little edge over short URLs.
Page Category
The category the page appears on is a relevancy signal. A page that's part of a closely related category may get a relevancy boost compared to a page that's filed under an unrelated category.
Domain Trust/TrustRank
Many SEOs believe that "trustrank" is an important critical ranking factor. And a Google patent entitled "Search Results Rankings by Trust".
Server Location
The location of the server affects where your site falls in different geographic regions (resources). Particularly important for geo-specific discoveries.
SSL Certificate
Google has confirmed that using HTTPS as a ranking signal. So it is an important factor to rank on Google, and to gain the trust of users.
Hacked Site
Getting hacked can be a bad thing for your website, even your website can get dropped from the SERP. In fact, when Search Engine Land was deindexed from Google after it thought it had been hacked.
Terms of Service and Privacy Pages
The terms of services and privacy pages help tell Google that this site is a trusted member of the Internet. These pages can also help in improving your site's E-A-T and e-commerce ranking.
Breadcrumb Navigation
Breadcrumb Navigation makes the site-architecture user-friendly that helps users (and search engines) know where they are on the site.
Featured Snippets
According to a study by SEMRush, Google selects snippet content based on a combination of content length, formatting, page authorities and HTTP data usage.
Bounce Rate
Not everyone in SEO agrees on bounce rate issues, but it can be a way for Google to use its users as a quality tester (after all, pages with high bounce rates may not be a good result for that keyword). In addition, a recent study by SEMRush found a link between bounce rate and Google ranking.
Pogo Sticking
"Pogo sticking" is a special kind of hoop. In this case, the user clicks on other search results in an attempt to find the answer to their search.
Dwell Time
Google pays close attention to "dwell time": how much time people spend on your page when it comes to Google search. This is sometimes called "long click vs. short click". In a nutshell: Google measures how much time Google searches spend on your page. The more time you spend, the better it is for your website.
Local Searches
For local searches, Google often places local results on top of "normal" organic SERPs. These are also very beneficial for businesses. It also can help in generating leads for your business.
Panda Penalty
Sites with low quality content (especially content forms) are less likely to appear in searches after a panda has been penalized.
Penguin Penalty
Sites hit by Google Penguin are rarely seen in search. However, obviously, Penguin is now more focused on filtering out bad links than penalizing entire websites.
Site Over-Optimization
Yes, Google penalizes people for over-optimizing their site. These include: keyword stuffing, filling in title tags, too many keyword decorations.
Why an optimized website loses money
In today's digital landscape, consumers rely on search engines like Google and Bing to find their next purchase. Studies show that 80 percent of consumers and 71 percent of businesses start their products research with search engines.
If your company does not optimize your website for search engines (and users), you lose a significant amount of traffic and a significant amount of money. Your audience doesn't even get a chance to find your business and its products or services.
Instead, they seek out your competitors as they optimize their websites for commercial SEO.
With the potential impact of SEO on your company's revenue, you can't overlook SEO.
How to fix an unoptimized website
Your website optimization for SEO does not happen overnight or in a week. It's a continuous process, which means your business must be committed to SEO and make it part of their marketing strategy. Even if you invest your marketing budget in SEO services, it will take some time to optimize your site and make money from it.
Companies using SEO should consider a professional SEO audit. If you already have a fast website and responsive design, mistakes in your strategy can reduce traffic and online revenue. With an SEO audit, you can gain a third-party understanding of your approach.
If you are ready to optimize your website for SEO, you can expect to deal with the following tasks:
Search for keywords related to your audience, industry, and services
Optimize your website content with keywords
Create new content for your site on a regular basis
Improve your meta descriptions and title tags for users and search engines
Complete access to share your content with influential people in your industry
Depending on the size of your business and team, SEO may need time that your company does not have to offer. If so, it is important to consider the cost of the SEO agency and the monthly SEO package. With monthly, vs. one-time, SEO services, you can reap the full benefits of SEO, reducing time and resource commitments.
Conclusion
So some of these might be the reasons why your website is not making you money. We suggest you check if you lack some of the parameters mentioned in there. We also can help you in fixing these issues or getting all the errors fixed for your website with our SEO Services or Website Redesign Services, so that it can rank on Google and engage you more customers.
What Do You Think – Why Your Website is Not Making Money?
We hope you liked the articles, now it's time for you to share your opinions with our audience. Share your views about Why Your Website is Not Making You Money, and how we can fix these.