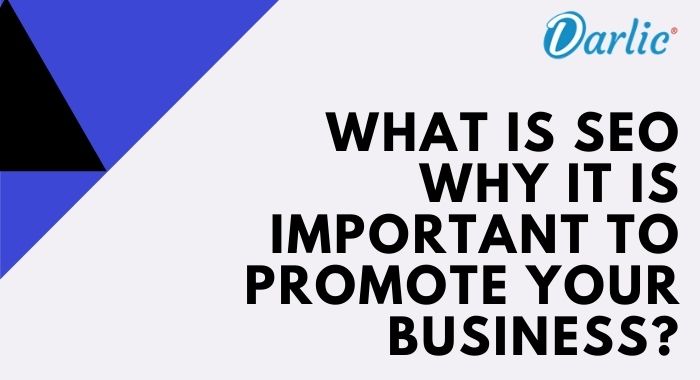 What is SEO? Why SEO is Important to Promote Your Website?
SEO stands for search engine optimization; it is the technique of practicing website optimization to improve website position on search engines like Google, Bing, and Yahoo, etc.
67000 searches are performed on Google every second, and 39% of all global eCommerce traffic comes from search engines, which makes SEO important for every business.
In this article, I will describe what SEO is, and what are its types, advantages, how Google ranks websites, and why SEO is important for the business of all industries in 2020 and coming years.
---
What are The Types of SEO:
The advanced strategies are followed while working on the SEO of a website. In these, there are two types of SEO optimization techniques i.e.
ON-Page SEO
In ON-Page search engine optimization, the main focus is kept on website optimization. The changes like website content optimize, optimize website structure, optimize a page title and meta description, use keywords in the content to rank on the search engine, optimize heading tags, internal linking, etc.
OFF-Page SEO
In OFF-Page search engine optimization, the main focus is on creating connections with other high-authority websites by disseminating high-quality content on the website and sending referral links to our website. With optimizing the link profile of our website authority of website and page increases, that helps in ranking websites on search engines and results in traffic increase.
---
Here is how the search engine works:
To understand SEO, you will need to know how search engines work with Google's work. So the working of a search engine seems simple, but it isn't very easy.
Crawling (sending bots/spiders)
Search engines start working with crawling websites with the help of its crawlers, also known as spiders or bots. In the beginning, Google sends its bots on all the websites to crawl, and then it stores websites in its database.
Indexing (Adding Pages in SERP)
After crawling, Google sorts the high-quality results with its algorithms and then index according to some parameters like content quality, value, the authority of the website, etc., and then includes it in the SERP.
Ranking Website (Algorithms)
After indexing the pages, the main steps of ranking a website starts. Google has a bunch of algorithms that decide which website to appear in the first, second, or last position.
Google has predefined parameters that keep updating. With the help of Artificial Intelligence, Google ranks websites according to the content quality of the website, page speed, user interface, user experience, bounce rate, link profiles, headings, keywords, and many other ranking factors.
---
---
Visibility – Why My Website is Not Appearing in Google?
When you create a new website and check in Google or another search engine, your website doesn't appear there, which sometimes makes you sad. It happens cause of some reasons that might be affecting your website to appear in search engine like your website is blocked to be crawled in robots.txt files; the sitemap is missing in your site, Google hasn't yet found your website on web or google doesn't even know that your website exists.
How Will My Website Get in Google:-
To check what is the issue with your website, integrate webmaster with your site. To integrate it with the website, google.com/webmaster and sign in after creating an account for your website to verify your website by pasting the HTML tag of the search console in the head section of your website.
---
Why SEO is Important:
The website without SEO is like a road without direction. If you want your website to be visible to people and appear excellent while sharing links on social media or in a Search Engine, then our SEO analysts can optimize it for you. Except for these, only there are many other reasons I am going to share with you to help you know why SEO is important.
Improve Website Ranking on Search Engines:
The main purpose of SEO is to rank websites on keywords related to the niche or services you provide or the products you sell. So by optimizing website according to SEO parameter improves website rank on Google.
Increases Website Traffic:
Google is responsible for 96% of all smartphone search traffic and 94% of total organic traffic. If you hire an expert or an SEO Agency to optimize your SEO website, it can result in increased website traffic if your website ranks on your wanted keywords.
---
---
Optimize Return on Investment (ROI)
The ROI of your website can increase with increasing website traffic. If your website ranks on Google and other search engines and an SEO analyst works on your website with all his experience and expertise to increase website traffic and user experience, optimize Return on Investment (ROI).
Optimize Click Through Rate (CTR)
CTR stands for click-through rate; it is calculated by the number of clicks on your website divided by the number of impressions of your results in Google. If you optimize your meta tags, content, images, and other SEO parameters, it will optimize the CTR of your website.
The CTR is also one of the important SEO factors if your CTR is high other results, then Google takes it as a positive response for your websites, and gives your website a ranking boost, and that results in improving the ranking of your web page.
Increase Website Reach
With increasing website traffic, and improving website ranking, you can increase your website reach on your services or products keywords.
Get to know Your Potential Customers.
The users that visit your website from google are the potential customers of your services because they have searched for the services you offer. So if you target keywords on your website, then you can target your potential customers.
Increases Sales
The website traffic from the potential customers can increase your CTR, conversion rate and sales, on your website. So if you want to rank on Google and other search engines, then you should hire an SEO analyst or SEO agency for your website.
---
Conclusion
These were the reasons describing the importance of SEO, and explanation of how SEO works for you to make a strategy of your website to optimize for the search engine.
Let us know what you learned from this article and also mention if you missed something in comment.