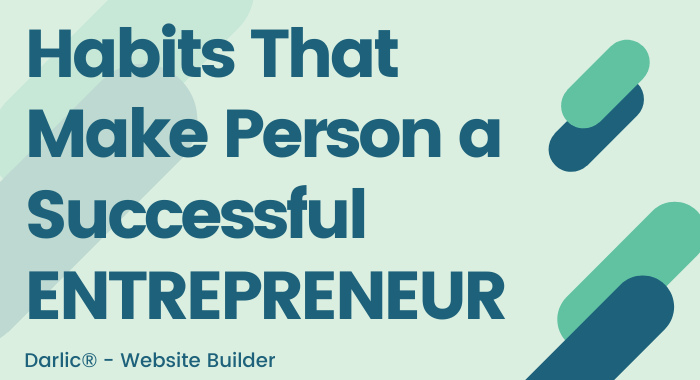 Habits That Make Person a Successful Entrepreneur
Before getting started you have to know what an entrepreneur is.
To understand in a better way and entrepreneur is a person who would like to create something from nothing. And he is the person who knows how to deal with something so that it is available for everyone so as to purchase it. In these circumstances creating is never an easy job. It requires lots of activities that need to be done simultaneously along with some good business habits and a strong desire in order to implement it.
If you are an entrepreneur then you need to be a creator on your own. You have to make your own decisions so as to make the customers feel happy and satisfy their needs. As an entrepreneur, you will have complete responsibility for organizing everything in a settled manner. So to do it you have to implement regular habits and practices so that you will be unique in your own field. So here are the habits that make persons be a successful entrepreneur.
Be open to experimenting with new things
As an entrepreneur, you have to be ready to take new things so as to experiment with them. It is really true that you cannot move forward until and unless you do something new in it. In the same manner, if you can try to implement a habit of utilizing new technologies and trends, then there are more chances to be successful in your field. Never say no to anything, instead be open to experimenting with anything and you can easily start learning from them. This habit will help you to grow more in your life which has the positive impact on your business development.
Cultivate the habit of learning
Never think that it is the end rather you have to start picking up by learning new things from time to time. In fact, each and every stage of your business is ready to teach you something on the other. So you have to be in such a way so as to grab all the possible knowledge that you can. The most successful entrepreneurs will never stop reading and learn from different books or any other things. Being an entrepreneur you have to build up some skills so that it becomes easy for you to visualize anything. So learn lots of things from others or you can also start reading different books so as to understand how you can build the habit of becoming the successful entrepreneur.
Take risks without the second thought
Risks are always part of human lives. This is also applicable to your business. You have to be open so as to be flexible in order to take risks in any situation. This is one of the most desired habits of successful people. You should not be afraid in order to face any circumstances be it a positive or a negative one. This really helps in pushing you forward so as to become a strong person internally and externally as well. Make sure that the risk never overcomes you there should be the margin between you and the risk. If you can create that thin line then you will be successful to take any risk up to the marginal level.
Motivate yourself
There are many situations in which you have to get motivated by yourself. Self-motivation is one of the biggest assets so as to stand firm in any tough situations. If you can stay motivated enough then there are chances to lead a successful business career. The leadership skills or motivational plans that you build must guide your business in a proper way. Always does self-motivated people have become successful as an entrepreneur. To get the inspiration you can follow the best entrepreneurs and cultivate the habit of following their lifestyles. This can help you in lots of ways so that you can become motivated on your own.
Know your strength and weakness
If you can balance both your strength and weaknesses then there is no one in the world who can defeat you. By knowing your strengths you can easily deal with all types of situations. So take advantage of your strengths it will help you to overcome your weakness. All the successful Businessman know about their strengths and weaknesses apart from that they know how to maintain balance. At the same time, you should not show your strength or weakness to the competitors. As they will find it an opportunity to pull you down. Convert your weakness into strength so that it becomes easy for you to know what you are and how you can deal different aspects of your business.
Build confidence
Confidence is the backbone of the business so as an entrepreneur make sure that the backbone is strong in any situations. You have to always look confident and at the same time, you should build confidence in each and every stage of your business. Even in negative situations, you should not look down rather you have to motivate yourself so as to stay confident. Undoubtedly being confidence is one of the best habits of successful business owners at all times. To build your confidence you have to take steps in a planned way and prepare goals so as to meet them on a regular basis. You have to get a clear idea that being confident is not only limited to your professional life you can also extend it to your personal life as well.
Make a habit of being optimistic
Whether you believe or not the optimistic people are the most successful one in their life. As they know how to choose positivity instead of getting fear of the situation. They know how to handle each and everything in a professional way without having the negative impact on it. You have to understand that being optimistic is an ideal strategy for making a bright future. Before stepping into that you yourself should determine that the future is going to be better than a present. In this way, you can start becoming optimistic and it builds a positive aspect of yourself. Additionally, you should also move forward so as to take responsibilities on your own. This really brings a positive impact on you and your business world.
Be patient
Successful people are always patient, even if all the situation demands them. In the same manner, if you can cultivate the habit of being patient then you will learn lots of things. Being patient will also help you to analyze everything so that it becomes easy to build a strong career. You have to know that in every situation failures are quite common. One who knows how to balance them will definitely be patient that interns make them be more realistic in everything. The habit of being patient is not concern regarding the ability to stay for some time so as to understand how to react for each and every circumstance without any second thought.
Make use of the opportunities
In the world of business, there are lots of opportunities and people who can utilize them in a proper way are said to have a successful life. This is the same case with the business as well. If you would like to be on the top of your business field, then you have to look for each and every opportunity. No matter even if it is a small one or a big one you have to utilize it in the possible ways. By using the opportunities it becomes easy for you to build a step-by-step career on your own. Finally, you will become the top most entrepreneurs with lots of experience and opportunities in your hand.
Know the priority of the tasks
You should be professional so as to know how to handle all the different tasks. If you can know this then you can easily handle various tasks based on the priority. Give importance to the tasks that require more priority and the other tasks will definitely fall into place. If you can use a plan and to do list, then it becomes very easy for you to analyze which tasks need primary concern. However, you have to think with a clear mind so that you will know how to give priority to each and every task that is put in front of you.
Be a good listener
You should always be a good listener so that it helps you to analyze what the other people are saying. If you have observed any of the successful entrepreneurs they definitely speak less and listen more. To be more specific this is one of the successful habits that you have to cultivate so as to become a successful business person. It is always true that good listeners and active seekers are always in the front line. So if you can learn to listen, then you will have more chances to know what others are saying so that it gives you a wide variety of options to solve any dispute.
Conclusion
Over and about everything there are lots of other lessons you have to learn so as to be a successful person in the business. If you can start adopting a few daily habits, then it becomes easy for you to rank among the most important things. Similarly, you can brace yourself for success and at the same time, it makes you become financially strong with all other positive aspects. Adopting the tips given here will help you to stay happy in all the situations and will eventually make you a successful entrepreneur.