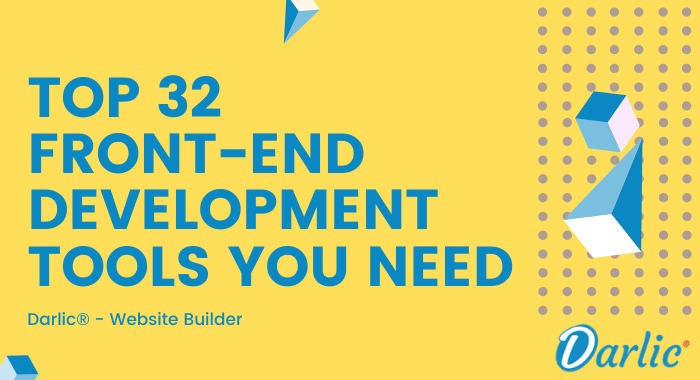 Top 32 Front-End Development Tools You Need
Nowadays building a modern web app can feel like a tedious process; structures, boilerplates, generalizations, dependency management, serial structures, construction processes, etc. This complex list seems to be growing every year! What should the developer do to deal with these situations? The only possible way is to update yourself with the latest front end development tools and techniques.
Through the points listed below, our goal is to make you profitable on front-end development. Read carefully and figure out what works best for you.
1. HTML5 Boilerplate
Download the files in this group and use them as a foundation for your website development. This enables developers to easily create custom and robust apps or websites.
It is considered as a professional front-end template that is mainly used to build fast, robust as well as adaptable web applications or websites. The designer can easily work on the website by using ultimate tools like that of HTML5 Boilerplate. It makes the developer work on the circumstances so as to build up a basic foundation for a particular website. There are many features that are incorporated into this tool due to which it has become one of the most popularly used among all other things. The developers can easily use the HTML5 elements in it so as to make the website look much more professional. Along with that it also provides the optimized version of Google Universal analytics snippets so that the developer can also work on it.
Powerful features of HTML5 Boilerplate
It supports a developer to use HTML5 elements
Fixes common bugs and CSS normalization.
The presence of Apache server configurations improves the security and performance of the website
Console Statement Protection
It generates custom Google Universal Analytics snippets.
It provides comprehensive documentation.
2. Less
It is a CSS preprocessor that enables you to enhance the CSS language in terms of maintenance, flexibility, and extensibility. You can download it for free.
Powerful features of Less
This allows you to upload the selected CSS to the products
Creates advanced CSS using advanced styling syntax.
The codes are compiled into standard CSS before interpreting the web page.
3. SASS
It is a CSS extension language that helps you write manageable code in the shortest possible time. Additionally, you can quickly enhance your site's existing CSS features such as legacy, variables, and nests.
SASS allows you to nest your CSS selectors in a way that maintains the same perspective as your HTML. Also, too many nested rules will affect too much CSS and provide rigidity.
SASS is considered to be the most reliable that ultimately saves lots of time for you. One of the extraordinary things that you can find in Sass tool is that it has an ability to use the DRY which means repeat yourself. And the other thing that you should know is that CSS is usually not concerned with the DRY. The functionalities can be extended in such a way you can optimally use functionalities of any other existing CSS of a particular website. Another most important aspect of this tool is that it is provided with an 8-year- old open source project that can easily access with any CSS preprocessor. It is initially difficult to start working with Sass but when you once start using it, then you will never find it difficult. Moreover, there are many advanced functionalities in features included in it.
Important features of SASS
It provides language extensions such as variables, mixing, nesting, etc.
Elements such as color, style, etc. can be changed.
It allows you to use all kinds of codes.
Generates formatted and customized output
It provides control instructions for libraries.
Includes cross-platform source code editor
Supports various programs and markup languages
Allows developers to practice the correct project priorities
Helps you create reusable statements
4. Zurb Foundation
It works with almost all devices and helps you develop responsive apps, websites, and emails. The Foundation's library provides a predefined set of CSS classes, buttons, typography, grids, and other dynamic elements like Bootstrap. Layout optimization seems simple using this tool.
Important features of Zurb Foundation
Provides clean markup
You can easily add new elements
Improved web development and faster page loading speed.
Optimized for all devices
It offers the most reliable markup without compromising convenience and speed
5. Chrome Developer Tools
This is a set of in-built front-end development tools available in the Chrome Web Bra Browser. It is also referred to as Devtool. It helps you check HTML, CSS, and JavaScript code in real-time and allows you to make the necessary changes. It also provides performance analysis and testing tools. The internal structure of your application can be analyzed with this tool. It gives you the power to edit DOM (HTML) / CSS in real-time.
This Dev tool is released with new changes between every 5 to 6 weeks. With each new feature, it's constantly improving.
Another great feature is the availability of network tools. It helps you understand what's going on under the code and optimizes your loading flow.
Important features of Chrome Developer Tools
You can add custom CSS rules
It can be used as an editor
When you open the tool, you can disable the browser's cache
Helps in responsible development
6. Vuejs
It was the year 2013 when Views was released. It's the perfect solution for building single-page applications and multiple web interfaces. This tool is capable of getting combined with other front end development tools to create a new front end framework. The time required to finish applications in Views is relatively short as you only need a short time to set up the platform.
Important features of Vuejs
This is a static framework template of JavaScript
Flexible and easy to handle
Relatively less difficult maker
MVVM architect templates
You can use different methods for the effects of change
It provides comprehensive documentation
Helps you build complex applications
---
---
7. Twitter Bootstrap
This is one of the best front end development tools to help you create client-side coding and help you create an attractive front end. It implements development element abstraction in reusable mediums. This allows you to build applications faster and more efficiently.
If you are feeling difficult while typing small styles for a container then Twitter Bootstrap is the appropriate choice for you. Once you start working with the Twitter Bootstrap you will find it as a front-end application along with different patterns that will really impress you in its most possible ways. One of the most concerned issues with this tool is that it has the easy user interface that can resolve any disputes very easily. Bootstrap is considered as the most popularly used Framework which is accommodated with a comprehensive user interface that has been introduced by Twitter. By using these tools the developers can ultimately give a professional look to the website. It is completely branded with different varieties of tools in order to utilize.
Important features of Twitter Bootstrap
It provides you with a complete UI package
JavaScript plugins are available
Provides tools for generalizing stylesheets
Create model objects
8. NPM Tool (Node Package Manager)
It helps you find packages and reuse code. It is managed by command lines, and so it is always faster to run and hire applications. It helps to find and use the packages of reusable codes.
Npm is considered as Node package manager for the JavaScript programming language. In most of the cases, it is considered as a default package manager especially in the case of JavaScript Runtime environment not. The main usability of the story is to invent the reusable quotes that are existing in the system.
At the same time, it has the capability to assemble each of the packages in a more powerful manner. It is often considered as a command-line utility so as to interact with other circumstances. By using this tool the developers can easily Discover and start reusing more than 470,000 free code packages. With the help of this tool, the developer can easily publish and have control access to all the namespaces. In the same way, both the private as well as public codes have become easy to manage to maintain the same workflow.
Important features of NPM
It works with JavaScript
Provides the freedom to collect more code
This name controls location access
This gives you the freedom to manage both private and public codes
Manage public and private codes with related workflows.
9. jQuery
This is one of the most popular front end development tools. HTML document manipulation, Traversal, and Ajax are fairly common with these JavaScript libraries.
This is most often used as a JavaScript library which has been considered as an essential front and language by most of the developers. Even though it is a little bit difficult to manage with complex syntaxes, it still offers a wide variety of functionalities. This is the one main reason why most of the developers prefer jQuery as the ultimate web development tool. Interactions with other web applications become easy with the basic tool which is a cross-platform enabled option. Being one of the most popular used front-end web development tools that provide extreme varieties of functionalities so that the developers can easily resolve any issues. It also helps in creating animations, navigation through documents becomes easy along with additional plugins.
Important features of jQuery
Open source
Provides theme method
It's stable and therefore easy to manage
Supports various web browsers
Help you build interactive web applications
Extensive documentation opportunities
This is a cross-platform JavaScript library
10. AngularJS
It is the most widely used open source Google front end development tool. It provides a readable, accessible and vibrant environment to facilitate the front end development process.
Angular.js is considered as one of the essential tools in which HTML is usually the biggest asset of it. The open-source web application framework has been developed by Google which can easily extend web development services. By using the Angular.js you can very easily extend the HTML Syntax for any kind of web application. Moreover, the results of the HTML Syntax can be extended with more expressive and reliable manners. It is easier to develop any kind of web application by using the AngularJS tool. The web tool is designed Specially to create rich internet applications that also provide JavaScript coding.
Important features of AngularJS
Help build feature-packed applications
Supports developing client-side applications using JavaScript with MVC
Help build a rich internet application
This automatic JavaScript code is suitable for every browser
11. Grant
To accomplish task automation, grants seem to be the right choice. This JavaScript Task Runner provides bundled plugins for everyday tasks and gives you the freedom to write different types of tasks. If you can't find plug-ins for your applications, create your own grant plugin for your use.
Important features of Grant
Provides a wide range of plugins
Plugins are available for regular applications
Stable and consistent syntax helps you learn faster.
It enables automated repeat applications with minimal effort
This reduces errors when handling repetitive applications
It has got a huge ecosystem
12. LiveReload
In our daily lives, we sometimes perform refreshing functions. But by using LiveReload, you are saving extra time. This front end development tool is a simple web protocol that triggers clients to perform tasks whenever files are modified. So customers can easily control the situation.
Important features of LiveReload
WhatsApp Chrome Extension: It helps you to get font of any element on any website.
Proxy SwitchShop: This speeds up your local debugging information.
Page Ruler: To apply pixel perfection, try Page Ruler.
13. Ionic 2
Ionic 2 is making extensive use of front-end development tools that are the best suite with cross-platform mobile app development. It can also create custom web applications.
Important features of Ionic 2
Open source tool
It supports a code base for each platform
Include a large collection of plugins and built-in push notifications
Great suit with angular
14. Typescript
This is another open source front end development tool that comes under JavaScript superset. It is suitable for developing large applications and supports 31296 tools.
By using the existing JavaScript codes or by utilizing most popular JavaScript libraries along with the extensive libraries called TypeScript it becomes very easy to execute. It is an open source front-end scripting language that can easily compile so as to clean, simple Java code that also has the capability to run on any Browser. There is an additional option of adding static typing in terms of Java scripting that has been mainly developed for large-scale applications.
The features include which easily supports any kind of JavaScript libraries. This is one of the main reasons why it has been popularly used by most of the developers while designing any website. Above all, it is also considered as a countable browser along with the devices and other operating systems. This can easily run on any environment that simply supports any JavaScript feature that includes C and C ++ header files.
Important features of Typescript
It comes under JS Libraries
It can be used in all environments that support JavaScript.
It supports definition files with active JavaScript libraries.
It combines optional static typing.
15. Sublime Text
It is a cross-platform source code editor that can be applied to many programming and markup languages. One of the main advantages of Slim Text is the presence of shortcut keys. This enables you to make the necessary changes as quickly as possible. This simplifies the navigation process. You can customize bindings, snippets, menus, macros and completeness with slim text.
The Sublime Text is considered as the first-rate code editor. It has many extraordinary features and is highly advanced with a well designed cross-platform source editor. The application is compatible in such a way it becomes easy to navigate and support any kind of programming language. In addition to that, it is very efficient and also has a super-fast speedy user interface. Moreover, it is easy to run by developing the team which also consists of lots of keyboard shortcuts. By using these specifications it becomes very easy for the developers to build high-end free website. It is incorporated with a parallel editor which helps in making changes very easily. The developers can also utilize the pattern-based plugin application interface so as to get an interactive assessment.
Important Features of Sublime Text
It provides a project comprehensive index for each category, application and method.
It contributes to the Python based plugin API
Gives developers the freedom to create the right project priorities
It is compatible with all language grammar from text mate
This command contains the properties of the palette
---
---
16. Git extensions
It is a toolkit (primarily containing a graphical user interface) designed to work with Git at the bottom of the window. This will allow you to use the gate without using CLL. Also, you can view the records made in the graph management and enable you to use a rebase workflow.
Important Features of Git extensions
Integration for Windows Explorer Git
Featured user interface for Git
Visual Studio Extensions
32-bit and 64-bit support
17. Grunt
The Grunt ecosystem has been growing day by day and it has similar importance in recent days as well. This is considered as one of the most popularly used task runners on NodeJS because it is a tool that is used to automatically perform frequent tasks. In addition to that, it is much more flexible and easy to get adopted. Because of the availability of lots of plugins, it can handle multiple tasks at a time. If there is some problem or if someone has not already built what you need then you can use Grunt in order to automatically authorize and publish your own websites. This is provided with a workflow so that it can be processed from one state to another without getting disturbed. Moreover, it has the facility to automatically repeat the tasks with less effort.
18. GitHub
This is an Ultimate web development platform that has shown its efficiency in all aspects. If you start to work with GitHub then it gives you a chance to go back to the previous sessions in order to make changes. At the same time, you can view any changes that you have made so as to permanently save them. It is also effectively known for its high open source development community and it also provides different options that include tracking services, easy task managing options, different features and so on. GitHub is the ultimate front end development technologies that have been effectively used by many of the employees. The extraordinary features made it be the right tool for every task. Easy documentation allows the developers to check the quality of coding from time to time so as to make it more appealing.
19. Meteor
It offers developers the freedom to cover backwards work without changing perspectives between Ruby, Java, Python or PHP. This is made possible by libraries and a set of packages.
Important features of Meteor
You can develop applications faster.
Includes live reloading feature, so it only refreshes the required DOM elements.
Provides many built-in features
It allows MongoDB databases and Minimongo encoded in JavaScript.
20. Novi Builder
This is a drag-and-drop builder that works well with experienced developers. You can make the necessary changes to the source code and design part with Novi Builder. One of the key benefits is allowing full control over your project. For starters, this may seem like a daunting task, but try your best to make it easier.
Important Features of Novi Builder
Drag and drop the interface with the preview tool
Adds code editor
Provides additional app integration
Contains in-built themes
Supports e-commerce
21. ONE Subscription
It includes front end development tools themes and templates, various plugins and graphic elements, additional services and more.
It provides access to a wide range of digital products for the release of fully grown blogs, stores, online stores, landing pages, and other applications.
Important Features of ONE Subscription
Regular updates
Supports all frameworks
Provides high security
22. Creative Tim
It provides bootstrap based design elements for fast web development. It includes pre-built example pages, where you can practice development.
Important Features of Creative Tim
Provides Admin templates
The admin dashboard saves a lot of time
23. Codekit
This front-end developer tool integrates JavaScript in a short time, minifies and checks syntax, thus helping you build websites faster. Using Codekit, you can inject CSS changes without reloading the entire page.
Important Features of Codekit
It reduces HTTP requests by adding scripts
This minimizes the code to reduce the file size
Works with almost all languages
24. WebStorm
This front-end development tool provides exceptional coding support for Angular, React.jaz, View.jaz and Meteo. For large projects, Webstream will be the best choice, as it offers built-in tools for debugging, testing and tracing client-side and node.jaz applications. Also, it integrates with command-line front-end development tools for web development.
Important Features of WebStorm
The presence of Spy-JS allows the built-in tool to detect JavaScript code
Provides a unified UI for working with version control systems
It is optimized for use with different coding styles
It provides a built-in debugger for client side code and node.js apps.
25. Backbone
This front-end development tool provides web applications with a structure with key-value binding and custom events. It helps you easily create one-page applications. It provides a simple library for connecting different business and user interface logic.
Important Features of Backbone
It saves the data model
It helps users build client-side web applications or mobile applications.
It makes the code simple, planned and organized and is therefore the backbone of your project.
26. Jasmine
This front-end development tool provides behavior-driven JS to check JavaScript code. It's open source, and you don't need a DOM to operate.
Important Features of Jasmine
It does not rely on other JavaScript frameworks
No external dependencies
It runs on both browsers and nodes
27. CodePen
This next development environment supports both front-end designers and developers. It helps you build and implement a website in a very short time.
This is the unique web development tool that is organized with a front end designing along with unique development skills. CodePen allows the developer to build and make testing on a website so as to make it a unique one. It also has many unique features and is considered as one of the best social development environments for all the developers.
CodePen makes the developers feel comfortable while working with it so as to build and deploy a website, and even to build test cases. In this, there is the facility to use web-based HTML, JavaScript, and CSS code editors as well as to experience code directly from the browser itself. In addition to that, there are many advantages of learning as well as doing with the platform as it gives lots of testing features.
Important Features of CodePen
Parts of CodePan can be used in other applications as well
It helps you to write CSS scripts faster
It allows you to have live views and life sync
Inbuilt API exists
You can add links and pages without coding
---
---
28. Grid Guide
This tool helps you create a pixel-perfect grid within the design. Here, you can easily add guides to edges and midpoints.
Important Features of Grid Guide
Allows you to create duplicate guides for other documents and artboards
It helps you create custom grids
29. Modaal
This front end development tool provides assistive technology and screen readers. This plugin ensures quality, flexible and accessible models. You can also adjust the width of the browser using this tool.
The WCAG 2.0 Level AA accessible modal window plugin. It is featured with front-end development plugins which are said to have high quality and flexibility while working with them. The extraordinary features associated with Modaal makes the developers easy to work in any environment. The developers can work with the tool so as to optimize in order to assist the technology along with screen readers. Most of the features are accompanied with responsive and scale which has while browsing options. There is also a facility to utilize the keyboard control for the gallery so as to open and close the modal in any state which can be processed so as to make the option more flexible.
Important Features of Modaal
CSS fully compatible with SASS options
It allows full-screen and even ports mode
It provides keyboard controls for opening and closing a gallery
It offers flexible close options
30. Tensorflow
TensorFlow version 1.0.0 was released in 2017 and came under the second-generation system of Google Brain. It can run in multiple CPUs and GPUs and is available on mobile computing platforms including -64-bit Linux, macOS, Windows, and Android iOS and iOS.
Important Features of Tensorflow
It provides a flexible architect framework
It offers easy deployment of computations in CPUs, GPUs, and TPUs.
The advanced version available (TensorFlow 2.0)
This machine can be used in the development of training
31. HTML5 Editor
We have editors like
Notepad ++:
It supports almost all languages ​​and is widely used with HTML.
Aloha Editor:
This is a web-based HTML editor. Due to its small structure, it is relatively easy to handle. You can modify any DOM (Document Object Model) element using Aloha.
Prism:
This is a lightweight, extensible syntax highlighter.
32. Browser Add-ons
There are a number of front-end development tools available and important here.
Window Resizer:
It resizes the browser window to follow different resolutions. It helps front end developers to check their layout under different browser resolutions.
Colorzilla:
This is a Firefox add-on designed to help graphic designers. It helps them to read a color in a browser and paste it into another program.
The tools of front-end development have been constantly changing over the years. To be effective in website development, you need to master these tools. Take the time to analyze these front end development tools and choose the tools that will help you become more productive.