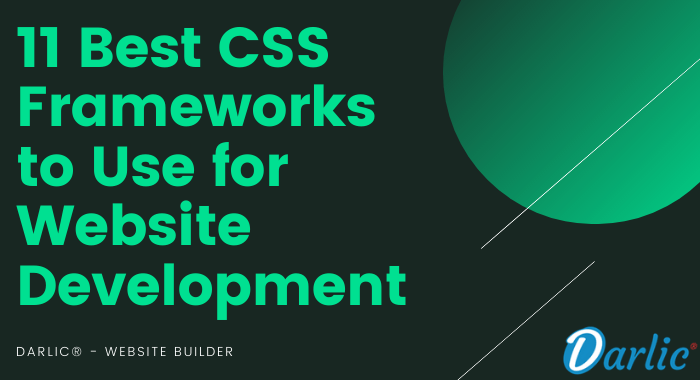 11 Best CSS Frameworks to Use for Web Development
The CSS frameworks are gaining a lot of popularity in recent days. And it is even more difficult to imagine a website without the use of CSS frameworks. With advanced development, the CSS frameworks have come up with advanced tools and revolutions. Â The basic concept behind CSS is to describe HTML as a structural format. And is a format that even provides the style and design of the structure. It has even become oneof the major components in all sorts of web development and web creations.
In simple words, the CSS can be described as the style and the design of a particular website that definitely makes it more unique. In fact, there are wide varieties of CSS frames available for web developers so that they can utilize them in a more advanced way. Each and every CSS frame has its own specialty and designing capabilities. One of the main reasons why they have become popular is due to the easy accessibility and user-friendly interface.
You will never find any website without the implementation of CSS or either CSS frameworks. It not only benefits the developers but also saves a lot of time while designing any website. They also have built-in facilities along with a mobile-friendly interface. Some of the CSS frameworks are given below so that you will have a basic idea of them.
#1 Bootstrap CSS framework
Bootstrap is one of the most popularly used CSS frameworks by web developers. It is too good to be true that Bootstrap has a greater standardized platform. Along with the implementation of unique style patterns, it also has the most desired components in it. The Framework is easily supported in any type of browser and easily supports any sort of issue. The excellent user interface makes everyone to be found about it. The Framework is easily available for mobile users as well.
Pros of Bootstrap CSS framework
It is very easy to use the framework.
Available with lots of built-in features.
It does not any adjustments in terms of pixels.
Easily supported on any type of platform and Browser.
Cons of Bootstrap CSS framework
The JavaScript is tied up with jQuery
Is not compatible with HTML.
It has many restrictions due to the standard set of selectors and grids.
#2 Foundation CSS framework
Basically, Foundation is considered as one of the extraordinary frontend CSS framework. Apart from that, it is one of the professional frameworks along with creative designs. It is easily compatible with any type of website which can also handle multiple devices. SASS-stylesheet is much more compatible with foundation CSS frameworks.
Pros of Foundation CSS framework
The finest customization framework available for the developers.
It is uploaded with lots of templates and easily available codes.
It does not require much time to download the templates.
Easily supports the rapid development of a website.
A robust development Framework with superior activities.
Cons of Foundation CSS framework
Less complicated with the outstanding grid system.
The codes available in the framework are difficult to modify.
#3 UIkit CSS framework
This is most popularly known for its lightweight version. This is the main reason why most of the developers choose UIkit while developing their website. Additionally, it is also known for its modularity that is well organized. With the different varieties of styles available in the CSS Framework, it provides different options for the users. The customized, as well as build-in animations, make the framework to be unique and outstanding. All these features made it be one of the most flexible frameworks.
Pros of UIkit CSS framework
Completely a lightweight version with front end Framework.
Compatible with inbuilt features.
It has the powerful web interface and the fast developing facility.
It is very easy to learn and has different functionalities.
Cons of UIkit CSS framework
Complicated with huge varieties of inbuilt features.
The modification is one of the top jobs.
Can be easily handled only by the professionals.
---
---
#4 Semantic UI CSS Framework
A well-known CSS framework for Its easy user interface. Semantic UI also provides developers with a vast range of customized options. The CSS Framework resembles Bootstrap that is officially supported by some of the external libraries like WordPress and angular. The main Principle behind the Semantic UI is to tag ambivalence, semantic, and responsive. And is considered as an excellent framework to build any platforms.
Pros of Semantic UI CSS Framework
Elements of the huge amount of customizations available.
It is very easy to load the components that you need.
Completely well documented and beautifully designed.
Very easy to use.
Cons of Semantic UI CSS Framework
It does not have the number of classes.
The file size is extremely large.
It is not suitable for beginners.
#5 Pure CSS Framework
Pure is a simple CSS framework that is optimized and modular as well.Being a lightweight CSS frame it also provides a flexible variety of CSS modulus. It is an Ultimate CSS Framework, which cannot be replaced by any other. The amazing features include menu grids, responsive buttons and so on. It is completely based on CSS, which does not support any other extensions.
Pros of Pure CSS Framework
It is a lightweight version with modular facilities.
Facilitated with different features.
Very simple and responsive as well.
Cons of Pure CSS Framework
Javascript or Jquery are not supported.
Difficult to understand for the beginners.
#6 Skeleton CSS Framework
Being one of the lightweight versions it is also well known for its responsive frame building factors. The basic HTML can be easily supported by The Skeleton CSS framework. Ultimately, it provides a large number of templates and is badly designed for the developers concerning the purity of CSS frameworks. It can easily organize the file structure and the basic concerned to provide user interface configurations.
Pros of Skeleton CSS Framework
Skeleton is very fast, easy to use.
It has more specifications and web designs for the developers.
Very light in weight and has the responsive grid.
Cons of Skeleton CSS Framework
Consumes more time while dealing with new projects.
Maintenance is the least bit difficult.
#7 Bulma CSS Framework
An ultra-modern CSS framework that is even easier to understand for the new users. Recently it has gained popularity due to its multiple designing skills and developing communities. And is also one of the lightweight version that has customized options for the developers.Bulma is available with an integrated flexbox so that the users can design in a more fancy way. The features are not much interesting, but still, it has been used by many people.
Pros of Bulma CSS Framework
It is very light in weight.
Completely featured with flexbox and interesting configuration
Cons of Bulma CSS Framework
Complicated for the beginners.
The features are lagging behind other CSS frameworks.
---
---
#8 Cascade CSS Framework
It is one of the free CSS Framework that is used to create websites as well as web applications.Cascade CSS Framework is similar to that of bootstrap and foundation frameworks. The basic concept behind cascade is that it contains the wide range of HTML and CSS based interfaces. JavaScript is an exclusive extension available in cascade CSS framework. The supportive feature of the Framework in provided with responsive design.
Pros of Cascade CSS Framework
Easily understandable and very interactive.
Easy for the beginners.
Has supportive features.
Constructive features include HTML and JavaScript supporting.
Cons of Cascade CSS Framework
Restrict the freedom of using templates.
It requires extra time for coding.
#9 Layer CSS Framework
This is a Framework that is mainly used for practical use cases. The Framework is available with small footprints as well as compatible. A lightweight and style oriented Framework that is specially designed for professional web developers. It is a mobile-first and full responsive grid system that is easily adapted for mobile devices.
Pros of Layer CSS Framework
Professionally designed to use and easy.
Preserves the native styles by default.
Cons of Layer CSS Framework
It is a sensible by default.
Recommended especially for mobile users only.