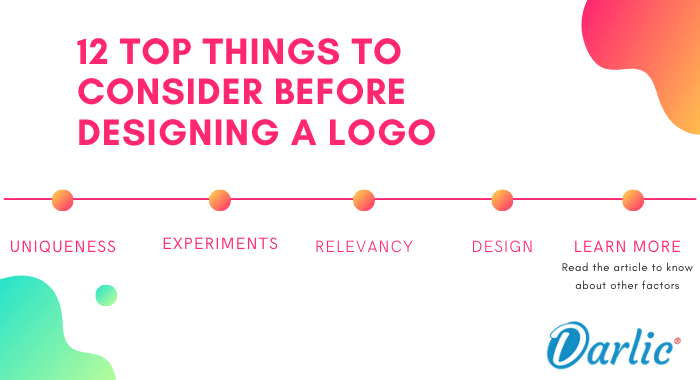 12 Top Things to Consider BEFORE Designing a Logo
If you are designing a logo then here's something interesting for you. Most of you might be thinking it is very easy to design the logo but the other side of it is in fact little bit crucial. A logo is the main concern that draws the attention of the users, therefore, it needs to be innovative and catchy. You would be surprised to know that they are millions of people involved in designing logos. There are different companies that also come up with innovative ideas to make the unique logo for any company. The tips given below will help you to become professional and designing your own logo in a creative manner.
#1: Give a Visual Double Entendre
This is a unique technique in which a single logo represents two different images in it. It should be designed in such a way that the Weavers should understand both the images instantly. Even though it seems pretty easy but it requires creativity to make an everlasting and innovative logo.
#2: Colour impact
You know the color of the logo is very much important as it is the way to Grab the attention. It's too good to be true that even color conveys a lot. As red color symbolizes love in the same way they are few colors that symbolize something unique and specific. Therefore it is essential to consider the color of the logo as well. Few of the color guidelines given below will help you to understand the color pattern very easily.
Orange: creative, friendly, youthful
Yellow: sunny, inventive, optimism
Green: Extension, natural, guiding
Blue: professional, health, tranquil, reliable
Purple:Psychological, clever, suggestive
Black: Strength and competitive
White: Purity, easy, simplicity
Pink: Attractive, entertainment, refreshing
#3: Be different
In this modern world, everyone Looks for something different and interesting. So people may be bored with the repeated concepts. In fact, they are logo designers who will make interesting designs for your websites as well. They make sure that the logos are not the replica of others.
#4: Try it Ownable
Ownable is most often heard in marketing strategies as a concept that gives importance. Try to make the logo in such a way that you can complete it. This is something concerned with the above tip. If you are not good at designing the logo then you can find lots of logo designers available online. So they can help you in resolving your problems and giving you quite an interesting solution.
---
---
#5: Choose the custom type
As most of the people are interested in custom type you can even try such things. It not only gives uniqueness to your content, but also gives refreshed feeling when people look at your logo. This can help in making a different logo that sets you apart from others.
#6: Experiment
As most of the people are interested in custom type you can even try such things. It not only gives uniqueness to your content, but also gives refreshed feeling when people look at your logo. This can help in making a different logo that sets you apart from others.Once you've found an idea you like on paper, you then need to take it and try manipulating it on the computer with Adobe Illustrator.
This way, you can play with the precise layout, sizes etc. and get an idea of how different concepts work.
#7: Follow the dimensions
It's quite simple as it is. Never tried to be beyond the dimensions or something more creepy. But at the same time being crazy can also work that depends upon the website for which you are designed the logo. You can even take some examples by considering few branded logos. Distance to do something peculiar and helps in balancing the logo with the approximate dimensions.
#8: Differentiate active and passive consideration
One who designs a logo should know about its active and passive considerations.
This good better help in judging what to do and what not to do.
To make your logo more attractive the logo designers will help you and become part of your business
#9: It should reflect the exact meaning
Make sure that your logo is in such a way that it clearly gives what it means. Be creative in such a way that people who look at your logo should understand what it is without going further. It's a great idea for the designers who show the clients with different ideologies. In the same way, you can also analyze different logos and choose the best that easily reflects what you would like to promote.
---
---
#10: Learn from big brands
You can also take inspiration from big brands, but be very careful not to represent as it is. The brand impact has lots to learn about its logo.
If you are trying to design a logo for your company, why not you choose some of the branded logos and get inspired by them. Most of the multinational brands have unique logos and they are made by logo designers.
#11: Try to make a combination
Lots of Companies will definitely give you an amazing logo. As most of the companies are following the street to make there brand to be number one. So it could be interesting if you can try a logo along with the tagline. This definitely has the bonus to your website thereby giving double promotion.
#12: Consider the feedback
It would be interesting if your friends or family give you feedback regarding the logo that you have designed. As it helps you in thinking many ways to satisfy them. And finally, you will come up with a very good logo for sure. Secondly, feedback also helps in motivating yourself to bring the hidden talent in you. So tried to create few logos and take feedback from your friends and then they will give you some good ideas. From that, you will get the best shot.